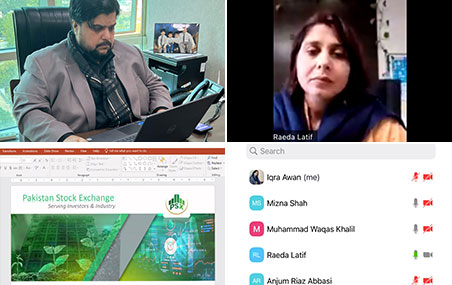 January 11, 2023
Awareness session of PSX in collaboration with Ministry of Information Technology.
​Pakistan Stock Exchange held an awareness session for the officials of Ministry of Information Technology, Government of Pakistan. Session was also attended by management of:
Pakistan Software Export Board
Ignite – National Technology Fund
Wherein they were given insight about the Capital Market of Pakistan. Regional In charge, Mr. Asghar thanked Ministry of IT for collaborating with PSX to create awareness regarding capital market of Pakistan. Ms. Raeda Latif guided the employees on how to select stock-brokers with the help of the broker's list and contact details available on PSX website. A detailed presentation was delivered detailing the latest capital market developments with particular focus on Growth Enterprise Market (GEM) Board.
There was an interactive question & answer session at the end where participants asked several relevant questions from the PSX team.
Participants of the session appreciated PSX's efforts for the promotion of GEM Board at PSX.