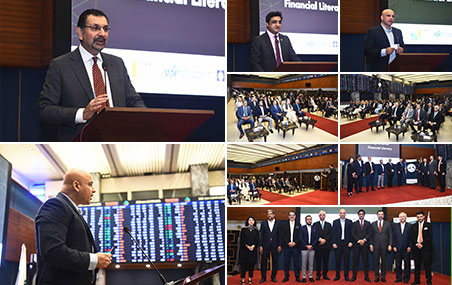 October 02, 2023
PSX marks World Investor Week 2023 with a gong ceremony
Pakistan Stock Exchange (PSX) along with numerous other exchanges & organisations across the world marked World Investor Week (WIW) 2023 through a gong ceremony held at PSX Trading Hall. The World Federation of Exchanges (WFE), of which PSX is an Affiliate Exchange, spearheads the WIW. The WIW is being held from October 2 – 8, 2023. PSX is holding this event and organising the WIW for the third consecutive year.
Present at the gong ceremony were representatives from the SECP, leading academic institutions, professional bodies, and securities brokers, amongst others. The week-long activities in World Investor Week such as webinars, in-person sessions, and workshop(s) are planned to promote the importance of financial literacy and to raise awareness about investor education and protection. The objective being to encourage financial inclusion and foster learning opportunities for investors.
The gong was struck by the Chief Guests, Mr. Abdul Rehman Warraich, Commissioner, Securities Market Division, Supervision Division, Securities & Exchange Commission of Pakistan (SECP) and Mr. Shoaib Javed Hussain, CEO State Life Insurance Corporation of Pakistan (SLIC), along with the PSX Board member(s) and MD & CEO PSX Mr. Farrukh H. Khan. The gong was struck amidst the presence of senior management of PSX and heads of leading brokerage houses, among others, to officially mark the beginning of the week-long World Investor Week and to open the trading day. The gong striking ceremony was followed by speeches by both the Chief Guests and by the MD & CEO PSX.