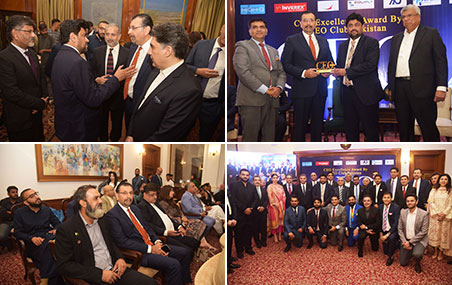 July 21, 2023
PSX MD & CEO, Mr. Farrukh Khan, awarded prestigious CEO Excellence Award by CEO Club Pakistan
The MD & CEO of Pakistan Stock Exchange (PSX), Mr. Farrukh H. Khan, has been awarded CEO Excellence Award by CEO Club Pakistan. This award has been presented to Mr. Khan in recognition of his leadership and dedication to excellence. Specifically, he has been recognized for his hard work and dedication to driving innovation and business growth. Mr. Khan has been a dedicated leader of PSX and a driving force for success for the capital market of Pakistan.
Mr. Khan has an impressive track record of successful business achievements. He has implemented innovative strategies to increase efficiency, reduce costs, and drive growth. He has also been instrumental in creating and developing collaborations and partnerships with other leading industry players. His strategic vision for the company has enabled him to become a major player in the market.
In addition to his business acumen, Mr. Khan has also been praised for his commitment to Corporate Social Responsibility. He has been involved in various initiatives to benefit the community and the environment. PSX and all its staff and management is proud to have Mr. Farrukh Khan in the leadership role he occupies at PSX and congratulate him on this great achievement.