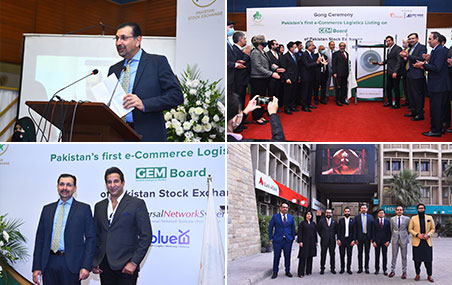 December 06, 2021
First E-commerce Logistics Listing on the GEM Board
Gong Ceremony was held at the Pakistan Stock Exchange to celebrate Universal Network Systems Limited (UNS) becoming the second company to list on Growth Enterprise Market (GEM) Board. It is the first company in the e-commerce logistics sector to be listed on PSX GEM Board. The GEM Board is a listing platform created to facilitate growth enterprises, whether small, medium or greenfield businesses, for their capital raising needs. Ceremony was attended by MD & CEO PSX, Mr Farrukh H. Khan while Chairman UNS, Mr. Arif Elahi and Former Pakistani Cricket Captain Mr. Wasim Akram, Anchor Shareholder of UNS were the Chief Guests.​
Prominent guests in the audience were Mr. Li Bijian, Consul General of China in Karachi; Mr. Holger Ziegeler, Consul General of Germany in Karachi; and Mr. Irfan Siddiqui, President & CEO, Meezan Bank Limited.​
​Universal Network Systems Limited or Blue Ex is a company involved in core logistics, e-commerce logistics, warehousing and relevant e-commerce & logistics operations.
Universal Network Systems Limited listing on the GEM Board was successful as the Issue was oversubscribed by 1.68 times.​