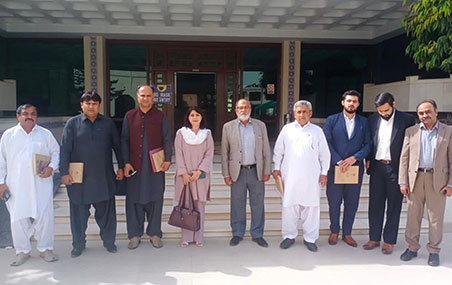 February 03, 2022
PSX team meets the Executive Members of the Association of All Sindh Seeds
The Business Development team of the Pakistan Stock Exchange (PSX) visited Association of All Sindh Seeds and met with the Executive Members of the Association. President Mr. Syed Nadeem Shah Jamote, General Secretary Mr. Nawaz Ahmed Nizamani and Member Central Executive committee Mr. Imtiaz Ali Soomro, Mr. Ali Ahmed Shah, Mr. Atif Nazir Kaimkhani, Mr. Jawaid Khan Pathan were amongst the audience who graced the occasion.
The team delivered a presentation explaining the capital market eco-system and detailing the options available at PSX for the member companies to raise capital. The focus was on how SME's can benefit, with relatively less compliance to follow, by listing on Growth Enterprise Market (GEM) Board. Presentation included initiatives taken to facilitate the companies interested to raise debt by placing debt at the exchange. The importance of listing for capital raising and increasing the visibility & overall image of companies was also explained to them. The team also briefed on how members of the association can benefit by investing in the Companies listed on exchange.
In the end, members took the opportunity and raised their queries regarding listing & Investing on Stock Exchange, Code of Corporate Governance and Regulatory requirements. Discussion included the business dynamics of seed sector and what issues the companies face in terms of growth, and ended after a detailed Q&A session. Association of All Sindh Seeds Members appreciated PSX's efforts and opined that the session provided them a better understanding of the listing process and the options they can seek to grow their businesses.