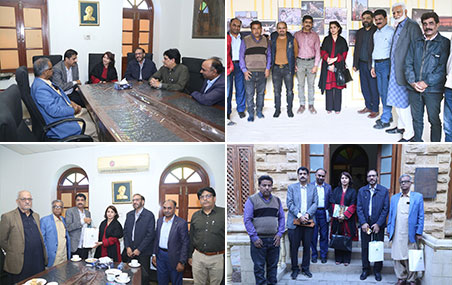 January 24, 2023
PSX Team's visit to Karachi Press Club
Pakistan Stock Exchange Marketing Team visited Karachi Press Club (KPC) on Tuesday (24th January 2023) to meet with the newly elected Governing body of Karachi Press Club. PSX team exchanged views on developments at the Pakistan Stock Exchange & media's role in today's rapidly changing capital market and economic environment.
PSX Team led by Head of Marketing & Business Development PSX, Ms. Raeda Latif, & Mr. Saeed Soomro Senior Manager of PSX's Marketing Dept. were warmly welcomed by media fraternity at the historic Karachi Press Club. Ms. Raeda Latif on the occasion felicitated the newly Elected Body Members of Karachi Press Club.
PSX Team met with the new cabinet members of Karachi Press Club & apprised them of PSX's new initiatives its currently working on, creating greater investor and issuer awareness efforts while promoting the Stock Exchange as a viable source of raising funds for economic development.
In the end, President of Karachi Press Club Saeed Sarbazi, thanked the PSX Team for this visit and hoped visits like these will continue to create greater awareness on the Stock Exchange and build a strong relationship between PSX & Karachi Press Club.
This visit was the latest in a series of media engagement activities undertaken by Pakistan Stock Exchange to help strengthen its relationships with nation's communication outlets.​